Project Overview
For its initial public launch, Apex Life Sciences hired Imagistic to develop the new Web site, and hired Imagistic's Chief Strategy Officer to coordinate and manage internal stakeholders and additional 3rd party vendors.
Solution
Kevin worked with the Apex Systems executive team to gather system requirements and to manage all parties to a successful on-time launch. The project included brand positioning, a well-tuned, easy-to-update CMS, and bi-directional communication between the Bullhorn ATS (Applicant Tracking System) and Phenom People TRM (Talent Relationship Marketing).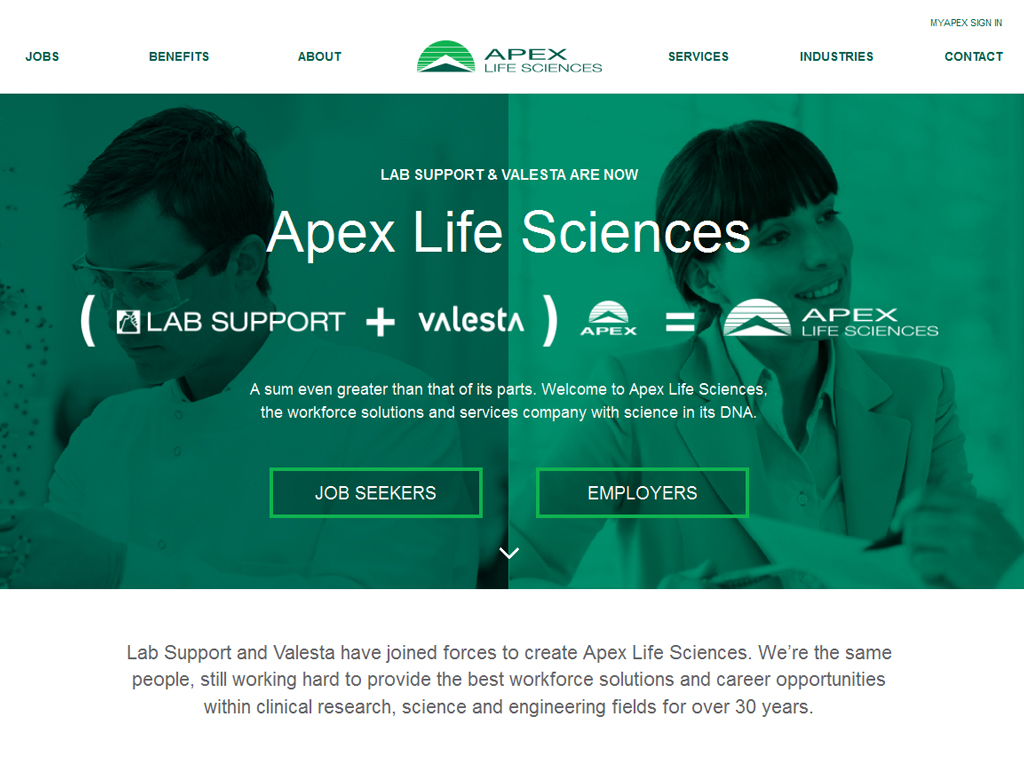 Project Details
Worked with Apex Systems stakeholders and a 3rd party digital branding firm to guide a well-branded initial public launch
Deployed the Drupal CMS enabling staff with little technical expertise to quickly update content on every page
Facilitated API data transfer between Bullhorn ATS, Phenom People TRM and DaXtra Parser
Designed a mobile responsive site using Bootstrap's JavaScript framework
Integrated best practices social networking on all relevant content page
Services

Pre-Development Consultation
Project Planning / Management
Business Technology Strategy
Web Development
Drupal CMS
Applicant Tracking Systems (ATS)
Talent Relationship Marketing (TRM)

About Apex Life Sciences

Apex Life Sciences is a division of the 5th largest clinical/scientific staffing and services firm in the U.S. We match top scientific, engineering, and clinical research professionals at all career levels for contract, contract-to-hire, and direct hire opportunities.